Roscoe, Rockton have the fastest-growing home prices in Winnebago County
Image
Roscoe and Rockton are seeing the fastest climbing home prices in Winnebago County.
In her July 2022 local market update, Angela Ketelsen of Keller Williams Signature Realty says the median sales price was $349,900 in Roscoe, $265,400 in South Beloit, and $403,872 in Rockton, even though "mortgage rates went from 2.98% to 5.52% and are still expecting to rise. More people are selling, so that means buyers have more options. However, inventory is lower than normal and buyers need to be ready to purchase right away when they find something."
In June 2022, Ketelesen reported 52 active & available houses which had been on market for an average of 28 days. But most homes sell faster: 96 sales were pending, with an average of only 5 days on market.
Ketelsen says, "The first half of the year, home sales increased by $21,700. Even with interest rates on the rise, houses are still selling at higher price points and selling quickly. The higher prices are not expected to fall anytime soon and are going to continue to rise."
---
---
Stacker compiled a list of cities with the fastest-growing home prices in Rockford, IL metro area using data from Zillow. Cities are ranked by 1-year price change as of June 2022. The charts in this story were created automatically using Matplotlib. The typical home value in the United States increased over the last year by +20.9% to $334,141. All 17 cities and towns with data available were included in the list.
The three hottest local housing markets are in Boone County. Topping Stacker's list is Timberlane,  south of Candlewick Lake, with a typical home value of $386,184.
Second is the unincorporated community of Garden Prairie (pop. 265), east of Belvidere.
The third fastest growing housing prices are found in Caledonia. Its typical home value of $297,675 is the second highest in the extended Rockford area. Candlewick Lake is part of Caledonia Township.
You may also like: Cities with the most expensive homes in Rockford metro area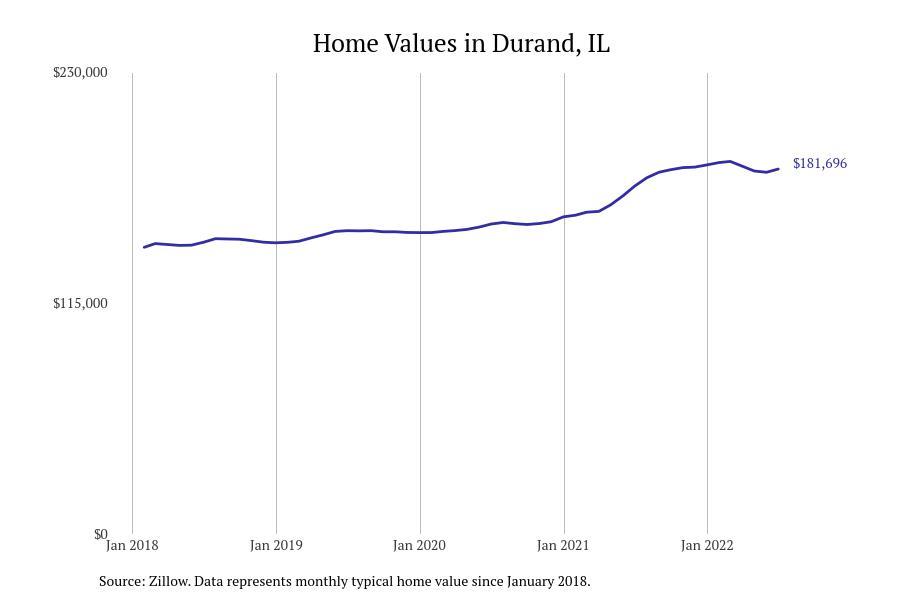 Stacker
#17. Durand, IL
- 1-year price change: +$8,521 (+4.9%)
- 5-year price change: +$39,696 (+28.0%)
- Typical home value: $181,696 (#14 most expensive city in metro)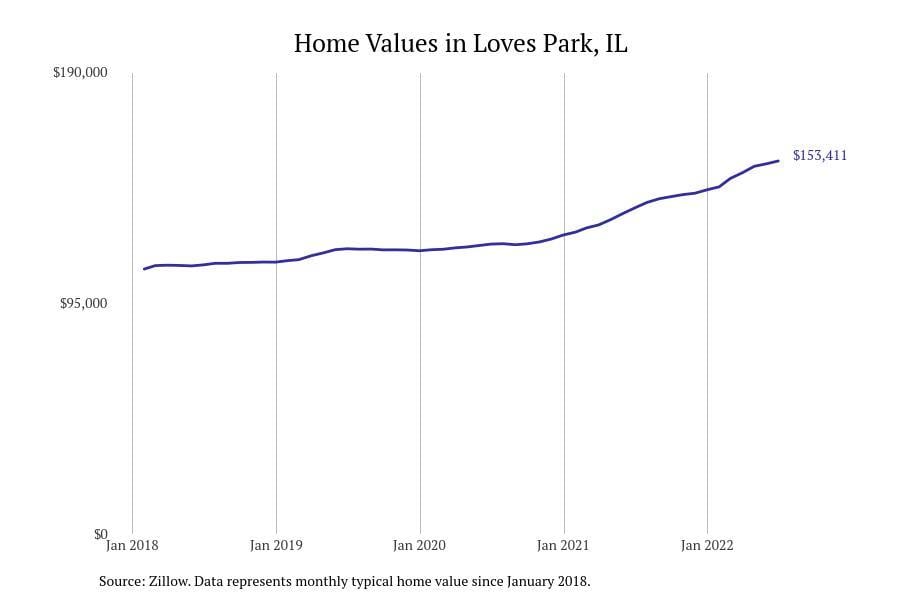 Stacker
#16. Loves Park, IL
- 1-year price change: +$19,333 (+14.4%)
- 5-year price change: +$47,292 (+44.6%)
- Typical home value: $153,411 (#16 most expensive city in metro)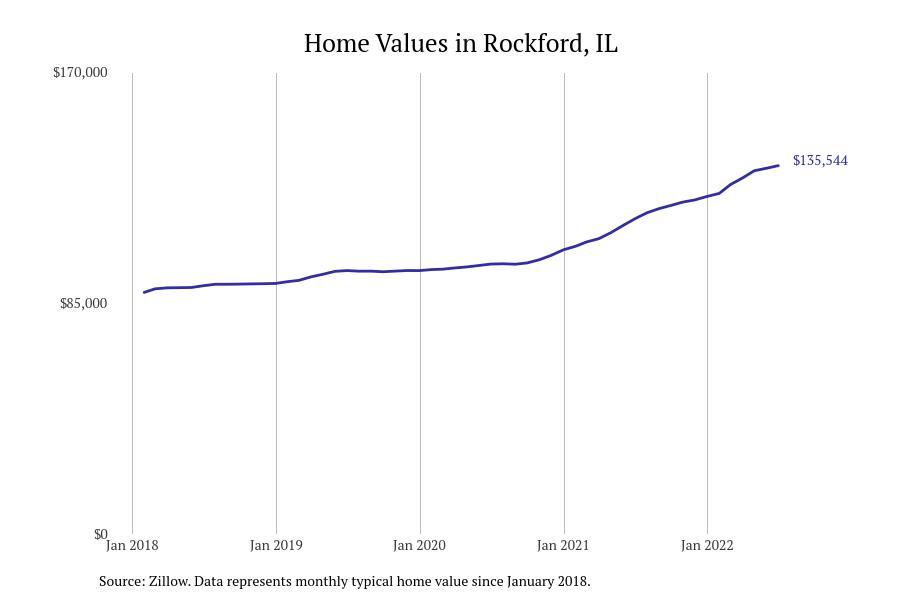 Stacker
#15. Rockford, IL
- 1-year price change: +$19,611 (+16.9%)
- 5-year price change: +$49,388 (+57.3%)
- Typical home value: $135,544 (#17 most expensive city in metro)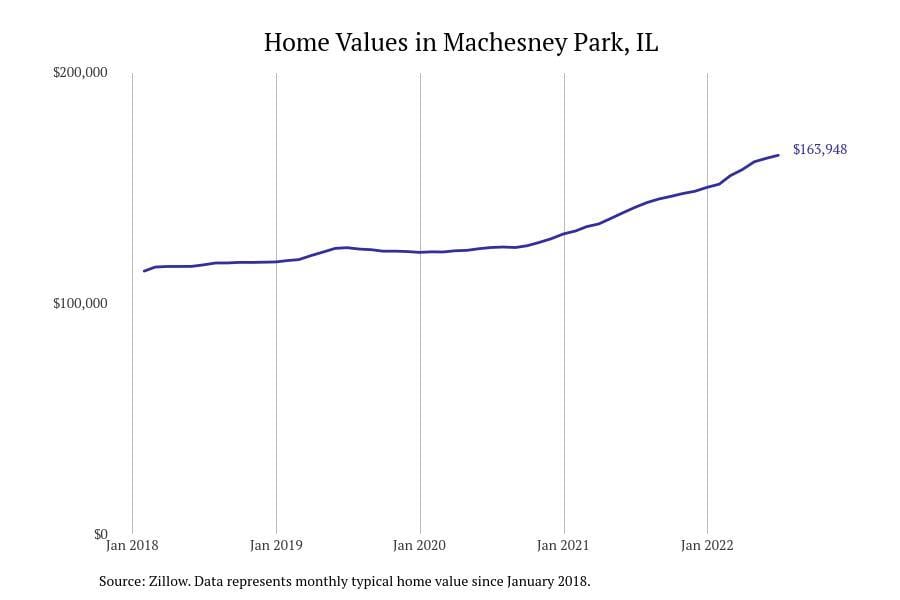 Stacker
#14. Machesney Park, IL
- 1-year price change: +$22,606 (+16.0%)
- 5-year price change: +$53,533 (+48.5%)
- Typical home value: $163,948 (#15 most expensive city in metro)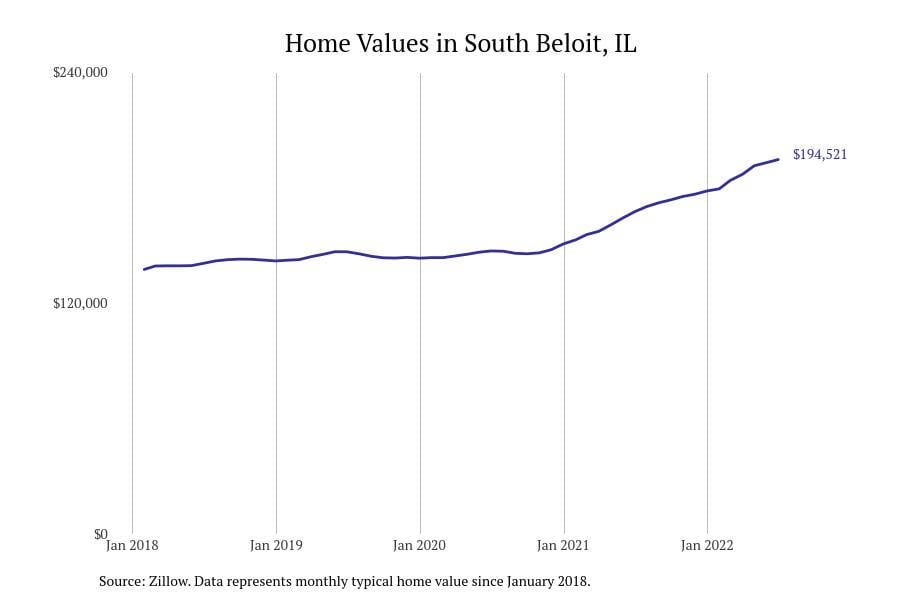 Stacker
#13. South Beloit, IL
- 1-year price change: +$27,118 (+16.2%)
- 5-year price change: +$61,976 (+46.8%)
- Typical home value: $194,521 (#11 most expensive city in metro)
You may also like: Highest-paying jobs in Rockford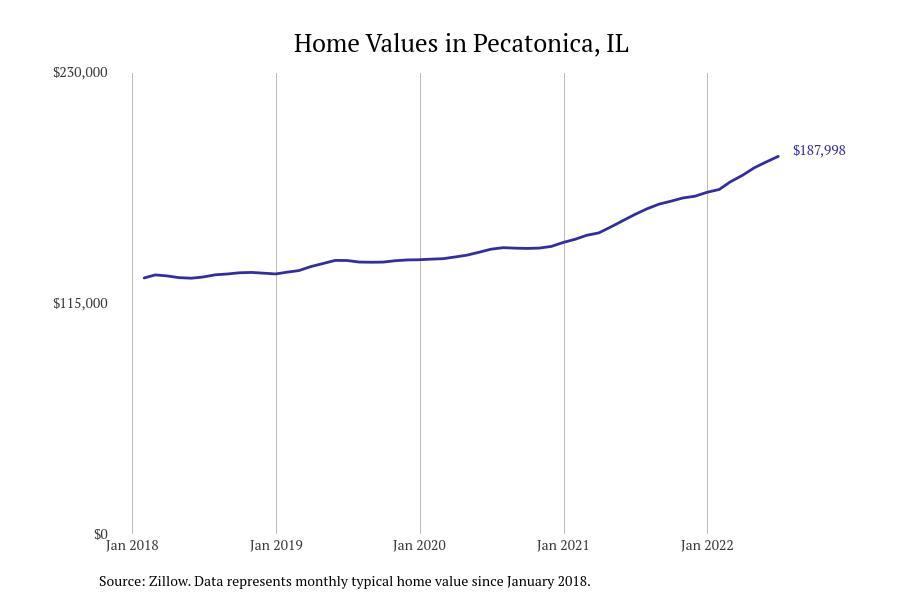 Stacker
#12. Pecatonica, IL
- 1-year price change: +$28,976 (+18.2%)
- 5-year price change: +$63,523 (+51.0%)
- Typical home value: $187,998 (#13 most expensive city in metro)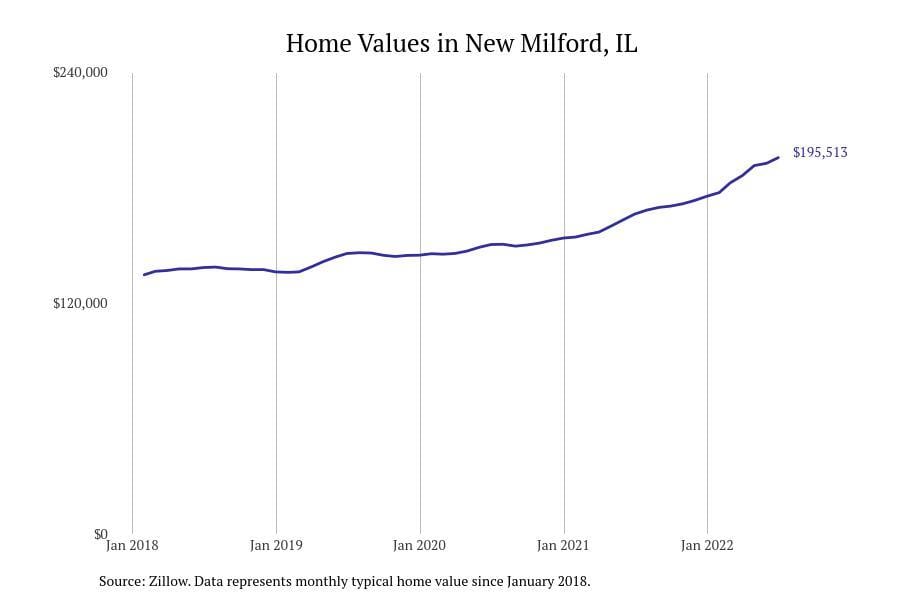 Stacker
#11. New Milford, IL
- 1-year price change: +$29,326 (+17.6%)
- 5-year price change: +$62,247 (+46.7%)
- Typical home value: $195,513 (#10 most expensive city in metro)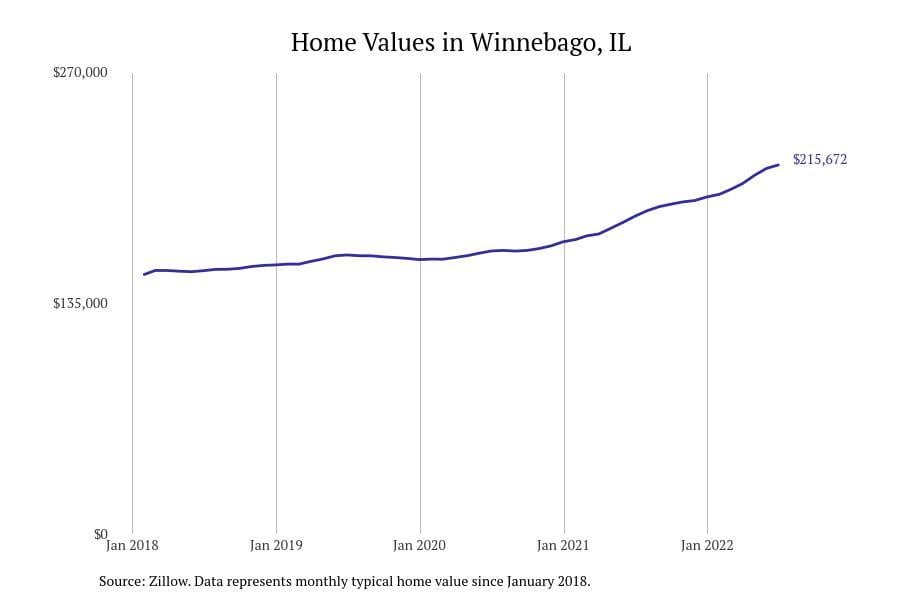 Stacker
#10. Winnebago, IL
- 1-year price change: +$30,045 (+16.2%)
- 5-year price change: +$68,678 (+46.7%)
- Typical home value: $215,672 (#7 most expensive city in metro)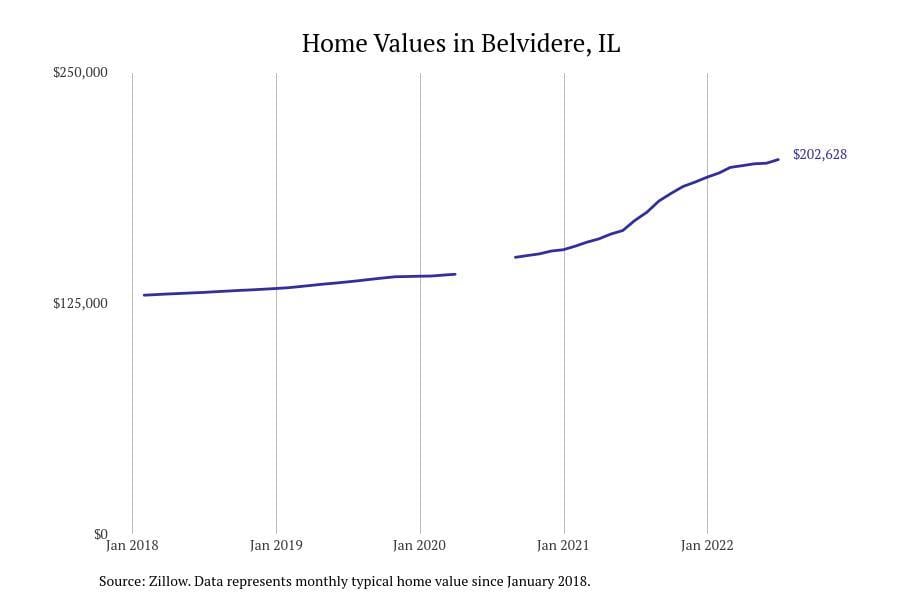 Stacker
#9. Belvidere, IL
- 1-year price change: +$33,040 (+19.5%)
- 5-year price change: +$75,407 (+59.3%)
- Typical home value: $202,628 (#9 most expensive city in metro)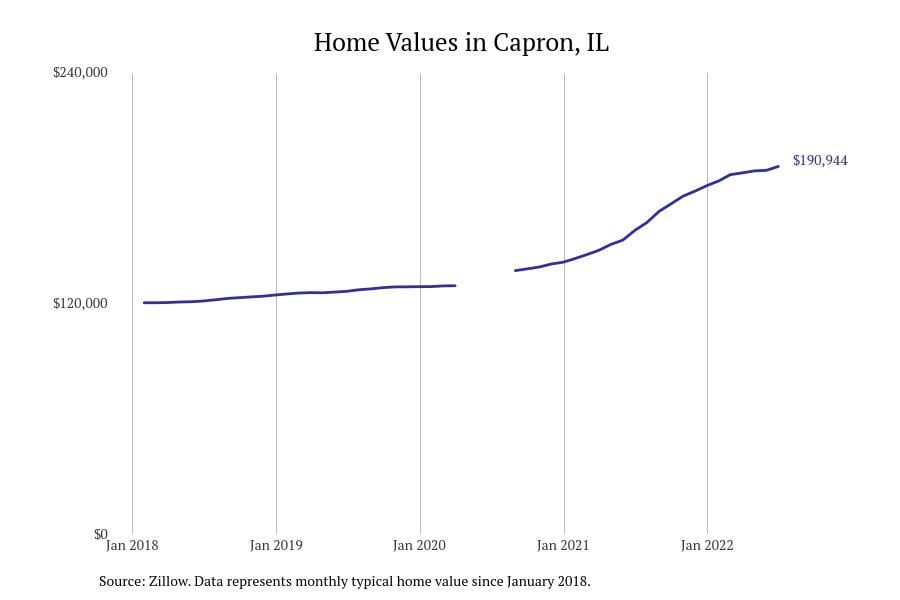 Stacker
#8. Capron, IL
- 1-year price change: +$33,294 (+21.1%)
- 5-year price change: +$70,180 (+58.1%)
- Typical home value: $190,944 (#12 most expensive city in metro)
You may also like: Highest paying jobs in Rockford that require a graduate degree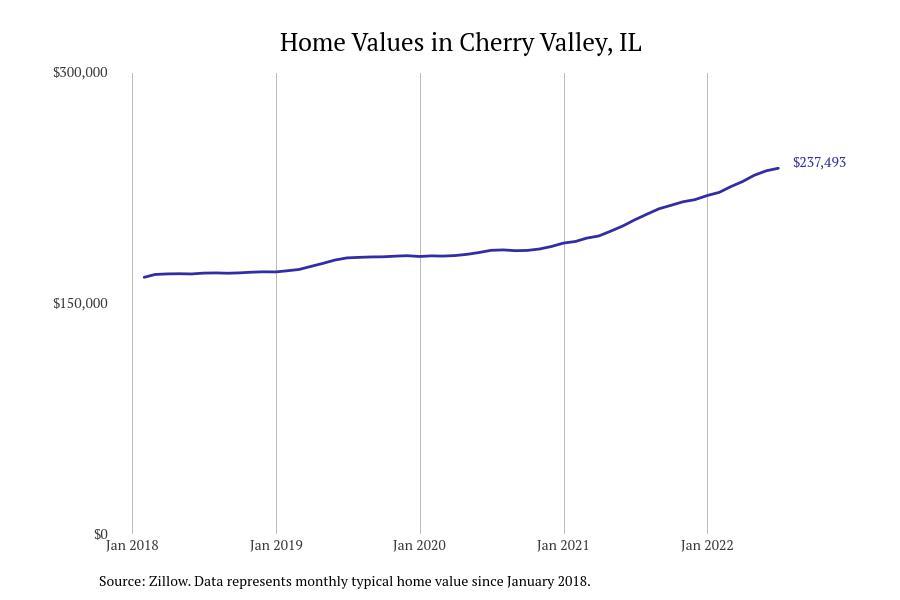 Stacker
#7. Cherry Valley, IL
- 1-year price change: +$33,526 (+16.4%)
- 5-year price change: +$72,535 (+44.0%)
- Typical home value: $237,493 (#6 most expensive city in metro)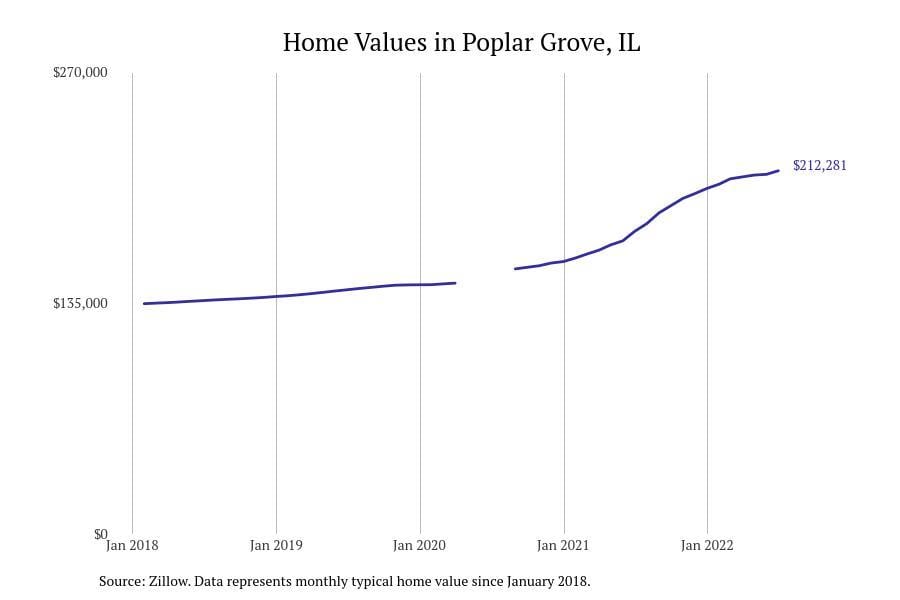 Stacker
#6. Poplar Grove, IL
- 1-year price change: +$35,430 (+20.0%)
- 5-year price change: +$79,218 (+59.5%)
- Typical home value: $212,281 (#8 most expensive city in metro)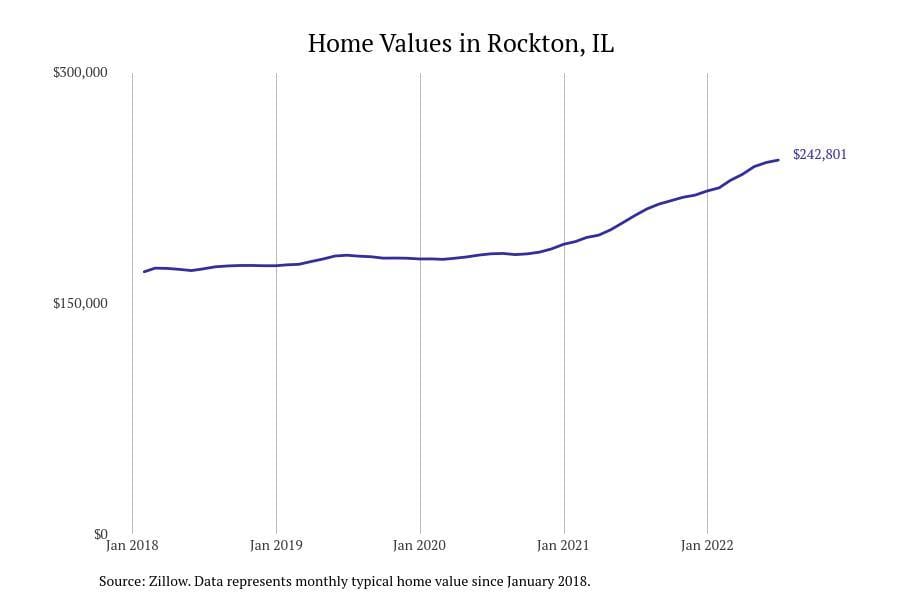 Stacker
#5. Rockton, IL
- 1-year price change: +$36,090 (+17.5%)
- 5-year price change: +$76,075 (+45.6%)
- Typical home value: $242,801 (#5 most expensive city in metro)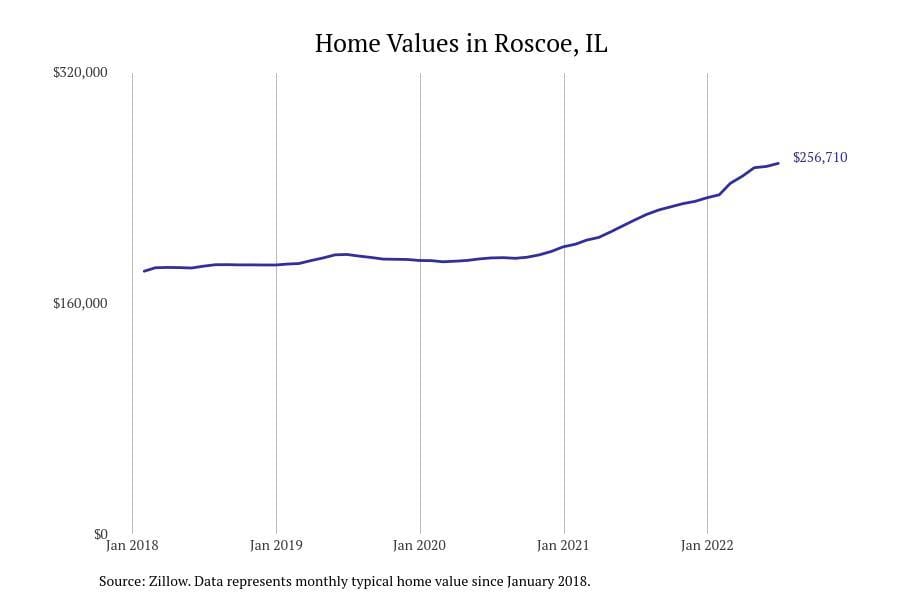 Stacker
#4. Roscoe, IL
- 1-year price change: +$39,232 (+18.0%)
- 5-year price change: +$78,222 (+43.8%)
- Typical home value: $256,710 (#4 most expensive city in metro)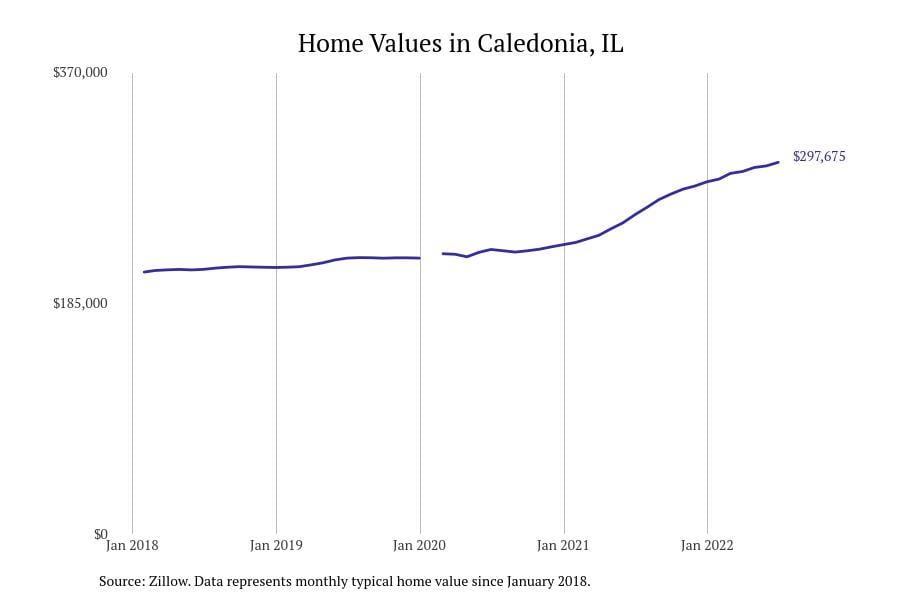 Stacker
#3. Caledonia, IL
- 1-year price change: +$42,115 (+16.5%)
- 5-year price change: +$90,957 (+44.0%)
- Typical home value: $297,675 (#2 most expensive city in metro)
You may also like: Highest-rated fine dining restaurants in Rockford, according to Tripadvisor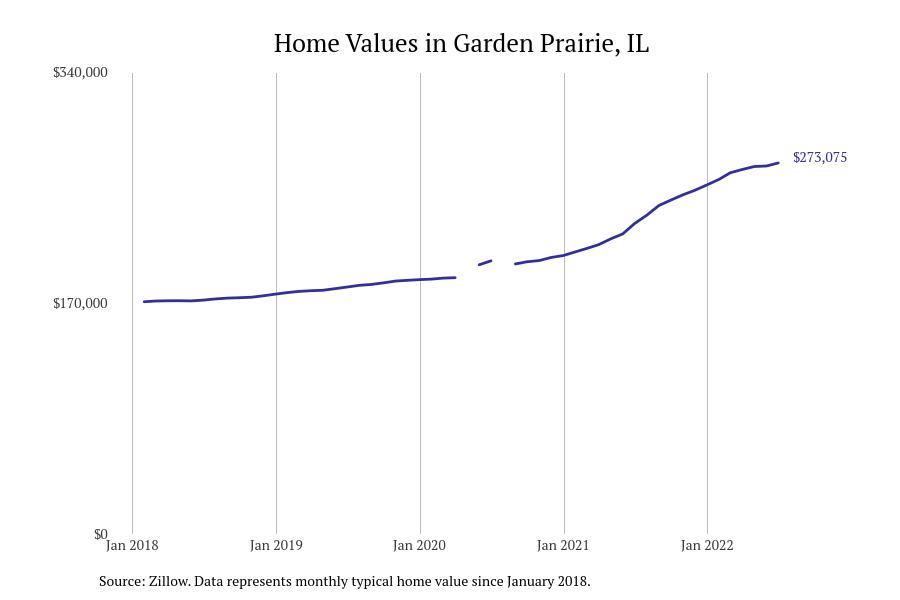 Stacker
#2. Garden Prairie, IL
- 1-year price change: +$44,564 (+19.5%)
- 5-year price change: +$105,404 (+62.9%)
- Typical home value: $273,075 (#3 most expensive city in metro)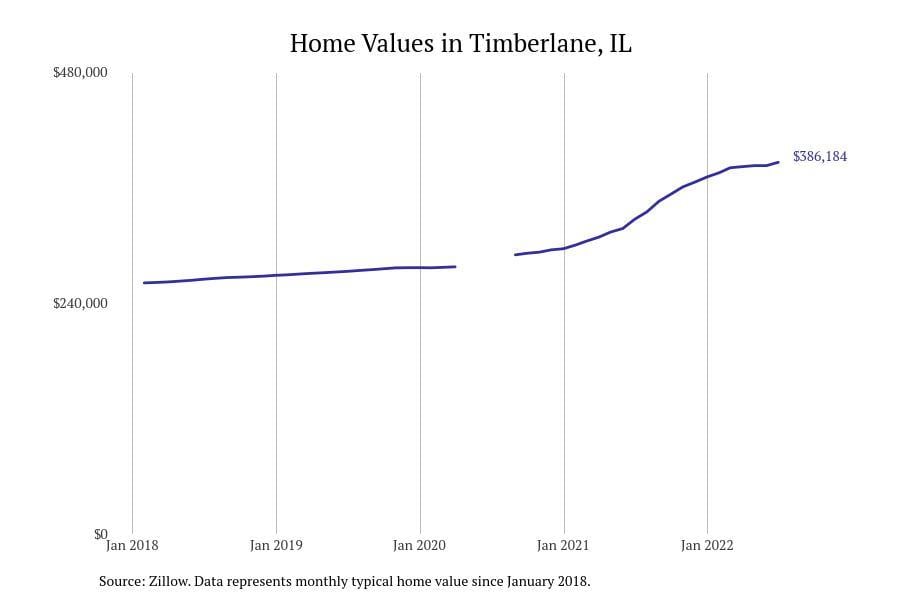 Stacker
#1. Timberlane, IL
- 1-year price change: +$59,243 (+18.1%)
- 5-year price change: +$128,482 (+49.9%)
- Typical home value: $386,184 (#1 most expensive city in metro)
More News from Roscoe